Last night around 1am the power went out and Tim heard an explosion of some sort outside the house. I went in the basement and found that almost every circuit breaker was popped. We flipped them all back into place and everything seemed alright. A couple hours later the power went off again, this time for the entire block. With the neighborhood blanketed in blackness I thought for sure, considering the recent crime sprees, that the whole block was going to be under seige, but nothing happened. Anyway, that explains why I was a couple hours late for work today and why Tim can't update the site since the internet stealing router upstairs must be unplugged or turned off or something. That's my excuse for Tim.
Before the electricity excitement somehow Tim convinced me to stay up way past my bed time and watch a Hip Hop awards show because WuTang was performing with 'Lil John. I'm not sure how awesome it is seeing O.D.B.'s lines rapped by some goofy dude with dreadlocks that never stops yelling, but I guess that's just me. Tim obviously loved it.
I'll have to keep it short today, but I'm sure you haven't forgotten about Old Dude Night, have you?
Photo of the day #23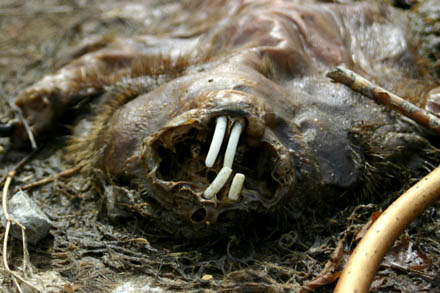 I don't have much time to pick out a photo today, so I randomly give you this: a melted beaver (maybe). It was summer, it was hot, he stunk, we did some tricks over him, the bail factor was scary, fin.