That place is a pile of crap. I ordered a sausage and mushroom and got a sausage and pepperoni. The garlic bread sucked ass and it took them over an hour to bring me that nasty garbage. That place is nothing more than a hang out for ravers and high school kids. They have no right to actually serve food if it's going to suck that bad. Jeers to you Pizza Shuttle.
Tomorrow night is the season finale of Americas Next Top Model. Not that I care all that much, this season kind of sucked ass, but I know Josh and all his girls will be glued to the television awaiting the outcome.
Last night was St. Nick. Did you guys get anything good? I got nothing.
Hey, do you guys like cats? I know I do, they're so fuzzy and cute! Cap does too! Props to you, Cap. Here's a pic I took when we we're fostering 3 kittens!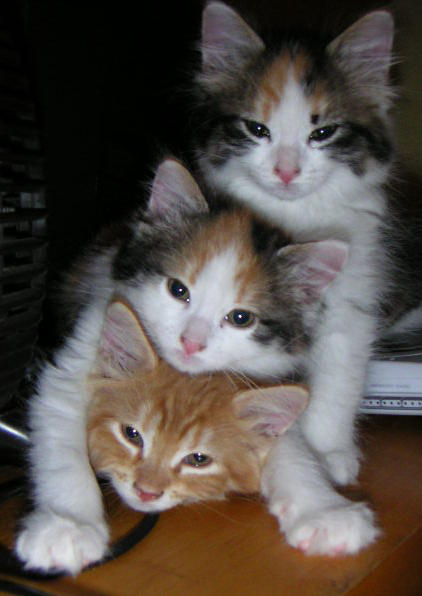 Awwwwwwwwwwwwwwwwwwwwwwwwwwwwwwwwwwwwwwwwwwww.
Holy crap, I almost forgot to mention the skatepark! Cream City!