I hope you all have heard about the Turf show tonight. If not check out the flier a few posts down from here.
In case you didn't know, Turf was a skatepark built in 1979 on the South Side of Milwaukee. It stayed open for about four years, then became a strip club called Bell-E-Bbuttons. It reopened in 87 and most of the pictures in the show are from that time. The second wave of Turf. The park was so popular then that you had to make reservations to skate in one of the two hour sessions they had per day. I went there when I was a little grom and after getting snaked by the locals hundreds of times and taking many a slam trying to skate the pools, I ended up slowly befriending the people there. It was a really fun place, and for the last ten years almost forgotten. So, come check this out and see a little skate history.
Here's a photo of turf with the bell-e-buttons sign still on it.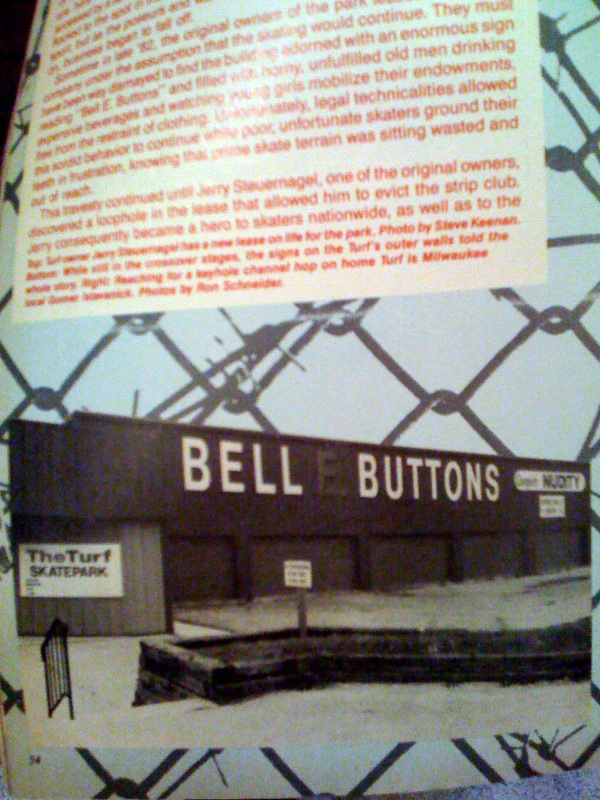 Santa Cruz is one of the event sponsors and I got to talk to Jeff Kendall about skating the Turf. He is from Indianapolis and was pro for Santa Cruz.
Somebody told me you grew up skating the Turf. When did you first
skate the turf and how old were you?
PROBABLY MORE ACCURATE TO SAY I SKATED THE TURF WHEN I WAS GROWING UP. THE FIRST TIME I WENT TO THE TURF WAS WINTER OF 1981. WE HAD ACTUALLY HAD A TRIP PLANNED TO GO TO APPLE SKATEPARK IN COLUMBUS BUT FOUND OUT LAST MINUTE THAT IT HAD CLOSED. MY MOTHER DROVE MY DAD'S PIMPED-OUT CUSTOM VAN UP WITH ANOTHER MOM. I WAS 14 AND THE REST OF OUR CREW WERE 16- CHIP JONES, STEVE SCHICK AND BOB PRIBBLE. I PROBABLY SKATED THE TURF 5 OR 6 TIMES TOTAL.
What was your first impression of the bowls and had you skated
anything like the turf before? I REMEMBER BEING SO FLIPPING STOKED AND EXCITED TO GET INTO THE PARK. COULDN'T PUT MY PADS ON QUICK ENOUGH. THAT WAS THE FIRST SKATEPARK I HAD SEEN IN REAL LIFE. WE SKATED THE FOOTIE BOWL FOR A LONG TIME JUST TO GET USED TO EASE OUR WAY IN AND GET USED TO CONCRETE. WE ALL BASICALLY LEARNED HOW TO SKATE TRANNY ON PLYWOOD HALF-PIPES AND QUARTERS.
Being from Indiana, What was the Midwest scene like then?
AT LEAST 30% OF THE SKATE SCENE WAS THE CREW I MENTIONED EARLIER. IT WAS SMALL, TIGHT-KNIT, AND COMPLETELY FROWNED UPON BY MOST. WHICH IS EXACTLY WHAT WE WANTED, I THINK. I'M SO GLAD AND PROUD TO HAVE GROWN UP IN THAT GENERATION IN THE MIDWEST WHERE EVERY SKATER WAS A BROTHER IN A SENSE. SKATEBOARDING AND PUNK ROCK.
Do you remember any of the locals that stood out to you? Skating or
being a character. ZILLY, OZ, MARTY, STEVIE B, GOMER WERE THE MAIN STANDOUTS. AS FAR AS BEING A CHARACTER- HANDS DOWN ZILL BEAUDOIN. W/O DRAWING ATTENTION TO HIMSELF OR BEING DARED BY ANYONE DUDE TRIED TO DO A HANDSTAND ROLL-IN INTO THE KEYHOLE. . PACKED INTO THE FACE WALL. ALSO REMEMBER HIM HAVING LEAF-STUFFED DUMMY THAT HE MADE W/ JEANS AND A FLANNEL THAT HE WOULD DROP OUT OF A TREE INTO THE MIDDLE OF A STREET ADJACENT TO THEIR HOME JUST AS CARS WERE APPROACHING. WE MADE FRIENDS FOR LIFE IN MILWA' FROM THOSE TRIPS. CAME BACK AFTER THE TURF CLOSED THE FIRST TIME AND HELPED BUILD A HALFPIPE IN THE BEAUDOIN'S BACKYARD.
What was your favorite pool to ride? Any memorable tricks you did there? HARD TO SAY. PROBABLY THE CLOVER. ALTHOUGH PRETTY SMALL AND LACKING ANY VERT YOU COULD GET CREATIVE IN THERE AND IT WAS EASY TO RIDE. THE HALFPIPE WAS FUN ALSO. EVENTUALLY I WOULD PUMP DOWN A WALL TO GET SPEED AND FORGET THAT THERE WAS NO FLAT BOTTOM AND PAY THE PRICE.
Were you in any contests there and did you ride there after turning pro? I WASN'T IN ANY CONTESTS AT THE TURF. I SKATED THERE ONCE AS A PRO WHEN WE WERE THERE ON A FILMING TRIP FOR STREETS ON FIRE. THAT WAS THE LAST TIME I GOT TO SKATE THERE.
Is there anywhere right now that is similar to the pools at the turf? NOT THAT I KNOW OF. THE TURF'S DESIGN WAS BACK IN THE DAYS WHERE PARKS DIDN'T FLOW LIKE THEY DO NOW. EVERY ENTITY WAS SEPARATE FROM ONE ANOTHER WHERE CROWDS OF SKATERS WOULD QUEUE UP TO DROP/ROLL IN. GREAT EARLY-SKATEBOARDING MEMORIES FOR ME AT "SURF N TURF".
Bonus question: Did you ever go to bell-e-buttons? UNFORTUNATELY, OR MAYBE FORTUNATELY, I DID NOT.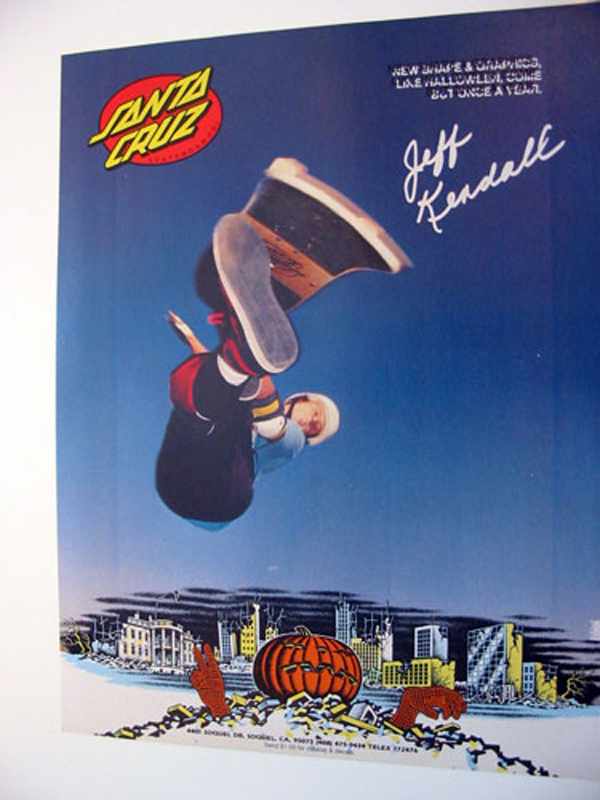 See you there!