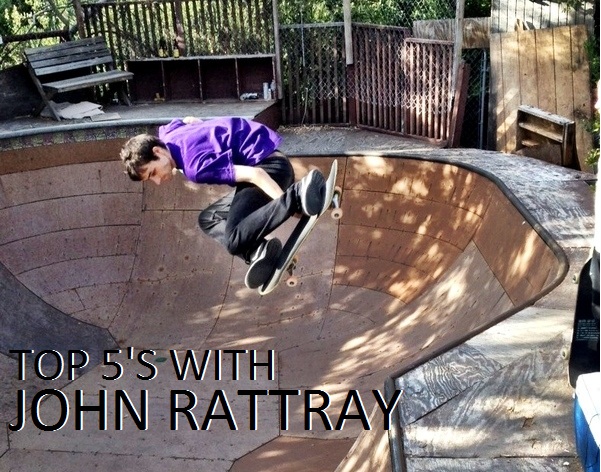 It's always strange to meet people you've only seen on TV screens and in magazines. You have these weird ideas of what they are like by the small doses you get from what someone else decides you are allowed to see. Before I met John, I was lead to believe he was somewhat of a school teacher in a skateboarders wardrobe. Then after meeting him, I realized that I was right. He's a well spoken, smart human that just so happens to rip on a skateboard (see video below all of this writing). So without further ado, I present to you, top 5's with John Rattray.
Top 5:
Reasons to stay in California;
Friends
Moving is a hassle
Maybe I can get a job I like
It's sunny
It's sunny
Reason to go back to Aberdeen;
Family
Coastline
Forests
Hills
Friends
Warm up tricks;
Bailing frontside ollies on quarterpipes
Reasons to get strung up by a Wampa;
Self-indulgence
Self-pity
Self-loathing
Misdirected anger
Guilt
People to skate with on any given Sunday;
Pease
Bartie
Burnett
Primm
Adam
Bergthold
Tricks you've had in 411;
Noseslide
Lipslide
Kickflip
manual roll
nollie flip
Tricks other people had in 411;
frontside heelflips
backside tailslides
5050s on handrails
switch airs on ramps
900?
Favorite skateboarders from the 80's;
Jason Jesse
Natas Kaupus
Mark Gonzales
Tony Hawk
Pete Dosset
Favorite skateboarders from the 90's;
Anyone on New Deal or H-Street
until Plan B started
then Plan B
then Toy Machine and Eastern Exposure 3.
Just pick any 5 from those.
And Ocean Howell.
And Alex Moul.
And that dude in the leather jacket that held onto the car.
Current Favorite skateboarders;
Tom K
Grant Taylor
Pierre Luc
Pat Duffy
Kyle Berard
Means of transportation;
Predatory Bird Street Cruiser
Bicycle
Train
Starship
Ferrari
Adobe Illustrator keyboard shortcuts;
Command + : Enhance!
Shift and L : Toggle through lasso tools.
P : pen tool.
Command Q : Quit.
Command/Option/Escape : Force quit. That's a mac shortcut really.
Skate trips you've been on;
Dundee 92
Southhampton 94
Livi 98
Vancouver 99
New Zealand 07
Graphics you've had;
Hand of Doom 1
Hand of Doom 2
Darklander
The Pulman Nun
Gillamesh
Graphics other people have had;
Jerry Hsu: Kittens and Rainbows
Anti Hero: Hong Kong Chicken Holocaust
Julien Stranger: Tastes like shit
Blockhead: Nothing is Cool
Golden Girls
Mammals;
Cats
Chimps
Orangutans
Gorillas
Div
Oviparous animals;
Arctic tern
Whale Shark
Black backed gull
Pterodactyl
Albatross
Tricks to do on a mini ramp;
River Dance
Can Opener
Allie Oop frontside ollie
Blunt Variations
Kickflips
Tricks to do on a vertical ramp;
Backside Airs
Smith Grinds
Eggplants
540s
Stalefishes
Movie quotes;
"We are men of action, lies do not become us." – The Princess Bride
"My name is a killing word." – Dune
"Maybe feelings are feelings because we can't control them." – Team America
"I ain't got time to bleed." – Predator
"All those moments…" – Blade Runner
John Would like to thank everyone at Zero skateboards, Thunder trucks, Poler, Modus bearings and anyone and everyone that enjoys skateboarding.
Follow John on Instagram @ratt_ray and check out his site thepredatorybird.com.
Later nerds.