Maybe I should mention here that I've had an almost totally completed new design of wiskate done for months. Why the shit don't I finish it? Good question. This place could really use a face lift. The droves of outdated crap needs to be handled accordingly also.
Last night I watched the Questionable video for the first time in awhile. Being a new owner of the powers of the late shove it, I have to say that I was quite impressed with the levels Sheffy took the trick to. Half cab late shove its, frontside 180 late shove its, it didn't matter, and long as it was late, and the feet were flailing, he did it. Can't forget M.C. doing the old shove it late shove it too. What a treat.
Was the series of words "late shove it" used enough times in that last paragraph? I hope the google ads react accordingly.
Later on today I have to go take a bunch of photos outside for this project I'm taking part in. Oh, good thing it's been raining all day. Whatever, just go with the flow. That's what Lord Cru would tell me.
See you all at the Planet later? I'll be the one with no pants on.
Photo of the day #5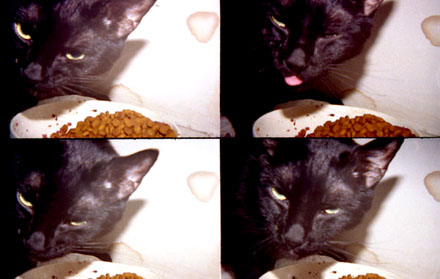 Today I guess I've taken this "group shot" theme a little loosely. Whatever, it's a group of cats. The same cat. Mr. Spooky to be exact. He is eating food, doesn't get much more exciting than that. I took it with a camera that takes a sequence of four photos. It worked right for about half a roll of film.