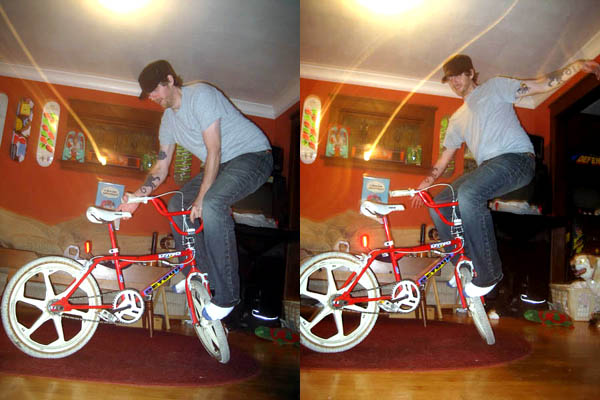 What the site really needed to go along with the new video clip section was a brand new video clip. Something that doesn't consist of three year old footage. So I present to you, a video clip with footage that's not exactly that old. All kinds of firsts here this week at wiskate.com. I don't know how we're going to top it.
Onto the daily Cream City Skatepark talk: As Tim mentioned, they have a bunch of new stuff being built right this moment. Pizzy already told me he's going to behinana the big four. A large claim, but not something he would ever back down upon. Pizzy is a man of his word. Anyway, I will be sure to add some photos of the new stuff as the construction gets a little close to completion. Best park getting better? Maybe.
Men of the Moment!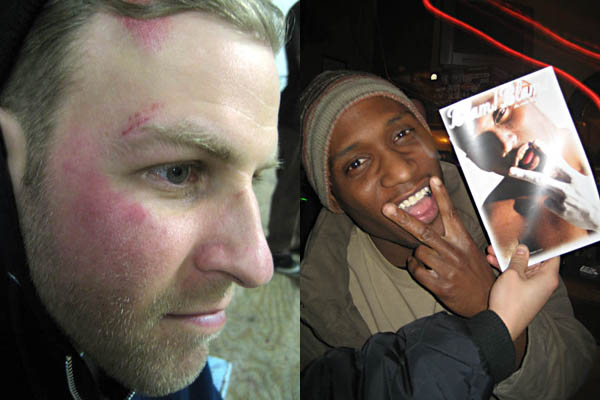 On the left we have Nate right after he slid about five feet on his face down the steep bank ramp at Cream City. A total fluke fall. The Captain was even dazed after the fall, and as you can guess it's no easy feat to pull off. So Nate's pain makes him a Man of the Moment. Why? Why not?
On the right you may recognize Sky High Skateshop fixture Juba. Juba just had a little photo pictorial come out in a Magazine called Blam Blam. "What is Blam Blam??" you might ask. Check out their site for a bit and you will soon realize the nature of this photo pictorial. And for that, Juba is also a Man of the Moment. High Five!
The Archives
For the sake of the the act of partaking in nostalgia and the new visitors arriving from the Skateboard Mag article: There are over 800 front page updates on wiskate.com. It's a lot to wade through, if you'd ever want to do such a thing. So for ease of use, here's some of my favorites from over the years…
Teefy Teef – Wisdom teeth stories, a story in photos that goes along with today's new video clip, and weepy weeping right into Pizzy's mouth. Actually the update that kind of started the updating craze the last six months or so.
Homesick in my Hometown – Lord Cru chimes in with some stories about teaching his students and how awesome they may or may not be. I'm mostly a fan of this post because of the final picture. A picture that he told me to never show anyone, and then proceeded to show the world. The culmination of a summer becoming a douche: Making out on the dance floor while simultaneously talking on a cell phone. Amazing!
Balzac, Balthazar, and Birry – Not many photos on this one. I just like the fact that I was able to go on and on about nothing. Total nonsense. The spirit behind wiskate. I kind of wish I had kept the photos of the day going though.
Non-Stop Erotic Cabaret – The posts with a lot of photos are always my favorites. Especially when they're from a rad weekend when it didn't seem so weird that we were skateboarding outside. It'll be happening again soon…real soon.
Tapirs In Space – Another with a lot of photos. Might be the longest post ever. Also marks the day I got my little slave flash. How historical.
Sex Dwarf Vs. Aquasock – This marks the point when Tim started putting a lot of photos in his updates. Most notably, photos of cats. Another historical moment. I knew letting him use one of my cameras was a great idea.
This is taking forever going through the old posts, so we'll leave it at that for now. I'm taking off to Philly for a bit, but I'll be back next week with some action packed updates. 'Til then….