I thought I'd take my hand at posting a photo of Josh this morning. I can't say that when we go out with a group Josh is the one dropping tricks. Don't get me wrong, he skates, but usually it seems like his nose is behind a lens or staring at a flip out screen at someone else.
BEHOLD! Mr. Ellis… is ill. It's not a foot plant… but give us time… I'm sure we'll come up with one. Maybe it will be over a river gap… with a narwhal! Don't bail on that… could be nasty.
Nice 180 to nosegrind here. Don't sleep on the talent!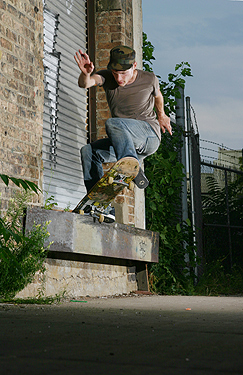 …
Oh… and its gallery night kiddies. Get out and see yourself some art! Lost of good stuff including the cats over at Citizen is Consumption should be a neat-O show.
…
Last but not least… some guy here in Milwaukee has the best collection of stickers EVER… yes… I know you and I put them on our cars, laptops, tvs, and the Margaritta maker BUT this guy was smart enough to hang onto all of them. And kept them nice and has them documented now. I love it. Stickers galore over at Skateboard-Stickers.com .
Enjoy!
…
OH!… and if you're looking for some art for your bedroom wall to peep at while you fall asleep at night, take your favorite photo and blow that mother up! Check out the Rastorbator. Clever little program that will take your images and blow them up and make them into poster size stuff up to 20 meters long! It'll make your tummy tingle and give you that happy feeling in your knickers. Go ahead… Rasterbate a little! Its fun, and you'll love it when your friends can only stare at the final results.