Extremely Interesting
As any respectable old dude can recall and grumble about "Remember in 1994 when a pro skater was lucky to make $1200 a month and drove a used Honda…?" Sticking with the 1994 pro skater trends (along with wallies and corn on the cocks), I too drive a Honda. Only 22 more payments and she's all mine! Funny thing is though, I've been trying the Honda financial website all day today and while it usually works kind of ok, today it is working for shit. You'd think it would be of paramount importance for a company that accepts payments online to make sure their website, you know, actually works. I guess I will have to keep trying though because I'm sure the excuse of "Your goddamn website doesn't work!" doesn't really hold much gravity with the repo man.
We got a dishwasher for the H.H. last night. I hope Tim posts up a picture of it. It's so quasi futuristic having a machine doing all your housework for you. At one point last night I had every major appliance in the house running all at once. Dishwasher, washing machine, dryer, and stove. In a future when machines do all your housework…..
Weekend Warriors (Wisconsin Chapter)
As Toby mentioned, tonight is indeed Gallery Night. Along with the happenings he presented, Ben Vance is also showing some pieces in Riverwest at a bar called Art Bar. As it's only a few blocks from my house, that is where you will probably find me tonight. After that, you already know. They caught the guy (Story by Skateboard P) that murdered the Jimmy Johns driver, so don't fear the hood!
Skating wise this weekend really looks it might be a total wash. High of 40 tomorrow and 80% chance of rain all day? Rad! Sunday, cold, but no rain. I hope Lord Cru will have time to go out and get some photos again. Rain or not. My reasoning being: we must have the Cru coverage at the same level it has been this past week. Speaking of dude, let's see if this trick works as well as last time…Cru, where have the updates been? I have no idea at all what you're into this week, and that is totally unacceptable. Twister too. Well, actually Mr. Twister told me he hasn't been able to update recently because his old lady is always using the computer for myspaz. I can hear the whip cracking from all the way over here, but at least he has an excuse. Even if it sucks.
Plat
Things have been slow over at Platinum. Munz, working on stuff for The Skateboard Magazine? How about giving your Easterly Midwestern e-buddies a shout out? Also, Stuck coverage? Dude is blowing up! Maybe even too big time to send footage for Beez 3? Time will tell.
I forgot to point out that they had a link up to download Fobia's latest video (couple years old by now) "All In" on the site. Now the link is gone, and I don't see it anywhere else on there. I guess the proverbial party is over. Sorry if you missed out because of my slow reporting…it's a super good video.
Old Dude Night
Tim already beat me to the punchline on the old dude night photos this week. Whatever, I only have a few for your consumption this time anyway. As you can surmise from Tim's photos, I was way too busy not doing ollies to be taking pictures all night.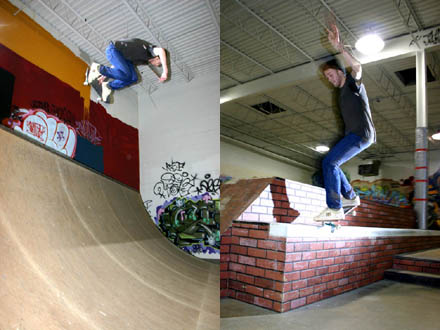 On the left we have Ben Vance doing one hell of a backside ollie on the mini ramp. Thanks to Tim for holding the flash. On the right is Ben Vance doing a nosegrind pop out early on the nib. Or is it jib? I'll need to consult a 1992 Transworld on that one, because I can never remember. Le Garcon was on flash duty for that one.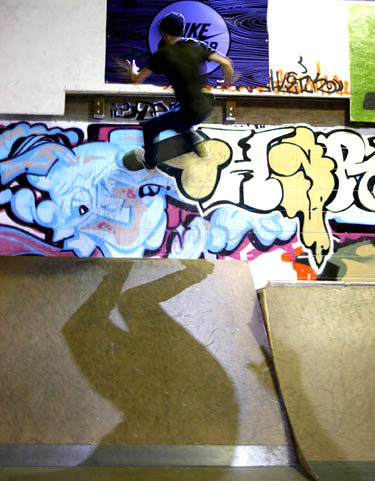 Final photo, surprise, it's Ben Vance again! He takes the same route the Captain took a few weeks ago with the quarterpipe to wall to bank, but Ben does it frontside. He was thinking about playing Scheherazade on his NES while he was doing it.
On the topic of that one place where we have Old Dude Night, there is now a myspace representation of the Cream City Skatepark that you can add to your list of the twelve friends that you really know and the three hundred and forty two that are fake "hot chick" accounts used to advertise porn sites. Represent!
Photo of the day #25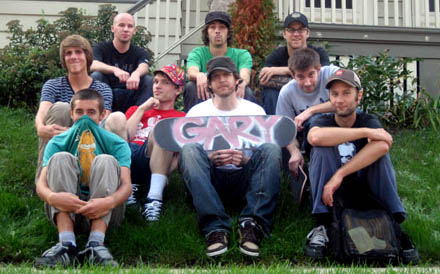 Gotta love a good crew picture. This was taken about a month ago when we were gearing up to take the posse to the Beez Bank. Needless to say, but the spot was DESTROYED. Look for the footage in Beez 3. Photo by: the curb and the timer on my camera.