As I think I mentioned on the site previously, the best thrift store in town just put out a shitload of Halloween costumes. Pizzy, Tim, and I went over there Saturday morning and basically flipped out. Not only did I get two dog costumes (Robin and Darth Vader), but Tim and I convinced Pizzy to get basically the best costume the world has ever seen. I will not divulge the details since the costumes were purchased for the filming of Beez 3, but I should mention how disappointed we were when we couldn't find the mask for the Jar Jar Binks costume. Meesa like to skate!!
Later on we met up with Lord Cru at Sky High. After Tim got his shady, shady picture taken in his costume with some of the Southern locals, we went to the spot and geared up. I never realized how hard it is to skate in a golden mask, so with nothing to offer myself, I just climbed up in a tree and filmed for awhile. I think Cru was really bummed he didn't have a costume of his own though. Sorry Cru! After that, we found yet another pole jam which needs a little bit of TLC from the Captains bumper, slid all over the place at the Oak Creek park, and finally got rained out in the end.
Yesterday the skate line-up was pretty thin. Just a Beezing trio consisting of Me, Pizzy, and Le Garcon. Usually when the crew is rolling so thin it's kind of hard to come up on footage and think of places to skate. I'm glad to report the situation was the exact opposite. I think I skated more spots during the day than I ever have before. Things were handled, Roger got a bikini top on his head, we skated the downtown Milwaukee snake run, and Pizzy grew a full head of hair. As the sun was setting, the battery on the camera finally ran out. Doesn't really matter though, since there was only one minute of tape left anyway.
Could the weather have been any better this weekend for the riding of skateboards? Well, maybe besides the part where it rained, but other than that it was perfect. Hope you all made it out on the streets in some form or other too, there are not many more days like these left this year.
Today, on the way home from the dentist I got mean mugged harder than I ever have in my entire life. I was pulling up to a red light, and this kid, couldn't have been older than 12, was crossing the street in front of me. He slowed his pace and stared at me for what seemed like minutes. What is the proper protocol in a situation like that? I just kind of shrugged at him, laughed a little, and when the light turned green went on my merry way. Well, not that merry, when I walked in my house I saw that our houseguest left a poopy present by the pinball machine. That dog really needs to learn some manners.
Photo of the day #11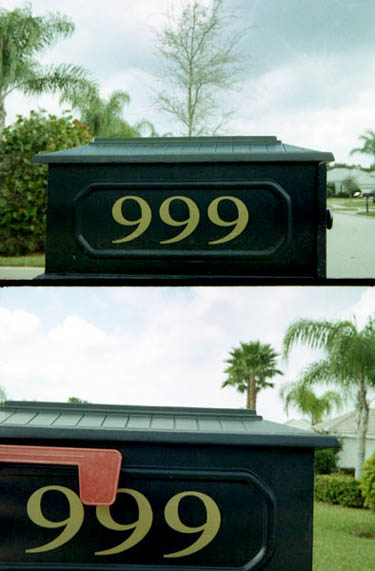 How exciting are mailboxes? Mailboxes in FLORIDA??