Boy, it's been a minute. How have you guys been? I feel like I just got back from vacation; refreshed, tan and a little dissapointed to be home.
Alot has happened since I last updated. I think I will start with the recent visit from our famous New York art friends, Justin Kay and Steve Green.
The whole week before their visit, I was trying to get myself hyped up to go out on the town that Friday. If you know me or even anything about me, you know that I am not one for the nightlife or bars in general (even though I work at one). Everyone was claiming I wouldn't go out so that just added more pressure and even I was beginning to doubt my own motivation. Friday came quick (like someone I know) and Steve and Justin were on their way to our house. Neal was already there, so obviously the party had already begun. Steve and Justin arrived and after presenting us with gifts and spinning tales of the presentation they gave the previous day at UW Madison, Lord Cru, Karen and some dude with a mohawk showed up as well as Roach and Stacy from upstairs. Karaoke Revolution for the XBOX got fired up and cans of Sparks and Tilt were cracked and consumed as the hits were belted out in a fashion only a mother could love.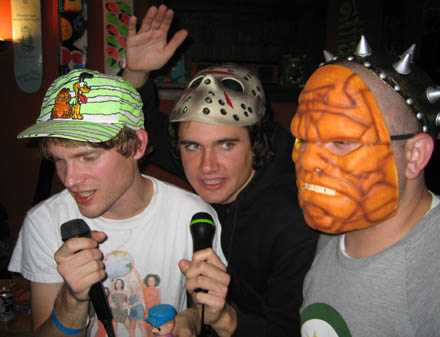 This is Josh, Lord Cru and Justin getting back to their roots with a rendition of "Hey Jealousy" originally recorded by the Gin Blossoms.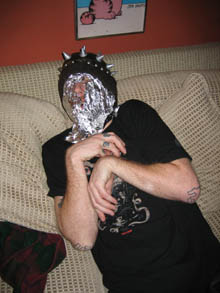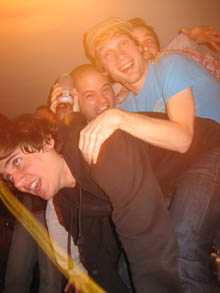 On the left is what happens to me after a few Tilts. Is it gay to put put a picture of yourself in a update? I don't care. I do know what IS gay though, and it's happening in the picture on the right.
After the pre-bar singing and a not-so-rare manties sighting, we all gathered our gear and headed over to the usual Friday night spot. Not usual for me, but for the other dudes. I must admit, I had the time of my life and I never felt that way before. I danced away the night with my friends and some unsuspecting cougars. I even saw some old friends that I haven't seen in a while. Let's get some visual aids for you non-readers.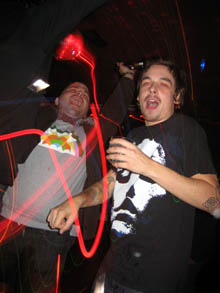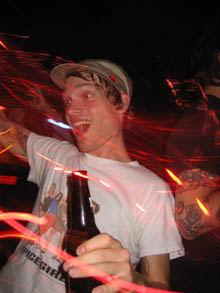 Art nerds on your left. The guests of honor. All around good dudes. Justin (mvp) and Steve. You all know who the nerd on the right is. I can't believe I'm putting up bar pictures.
I know what you're all thinking right now; "do these guys even hang out with girls?" or "are they at a gay bar?". Well, if you saw the girls that were there, you wouldn't be taking pictures of them either. Who even cares, girls or not, that shit was fun. Thanks guys.
The next day Josh told me about some flatbar he saw to skate and wanted to go get some photos of some tricks on said flatbar. It was cold out there, but we got it done and I even snapped a few with my little point and shoot.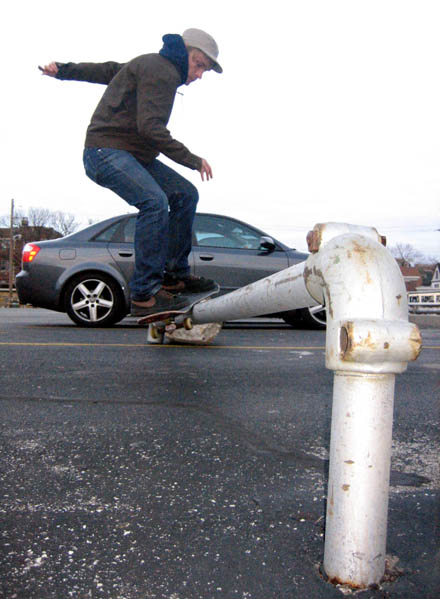 Josh has a good smith grind. He liked the flatbar. I was cold but still had fun shooting pictures.
Last week's Old Guy Night was a wash. So many people and so little motivation on my part. Table tennis was in full swing and Uncle Will is still in full effect.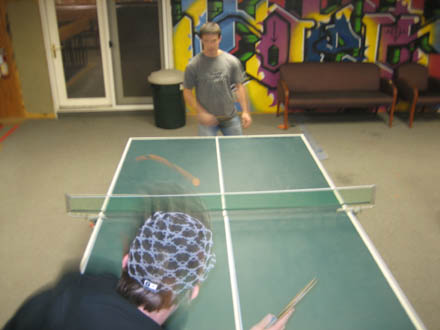 Hopefully this week will prove to be a little more fun. Don't forget, Wednesday nights 25% off anyone 25 and older. Real Old Guy Night only at Cream City.
The other day Josh bought Guitar Hero 2 and proceeded to play it for 5 hours straight. For someone with severe A.D.D., that is pretty damn impressive.
There are two cats and a dog sleeping on my bed right now.
Later nerds.