Well… its been a short while since I've thrown up on the web here. Just been SUPER busy as of late… TCB, ya know? But thats life.
About a week and a half ago, the young men associated with Affiliate Skateboards were at Cream City for a demo. I must say that I was impressed. They've got some great riders. Including a one Neen Williams. I'd seen Neen skate before, but he's got steez oozing out his backside. The following photo if posted in a snowboard mag would be labled a "nosebone" ,maybe indy or mute. Maybe even Stalefish! But it's a skateboard trick so it's called a "nosebone" . The only difference is that his feet aren't strapped in and he's not grabbing. Eat that Andy Mac!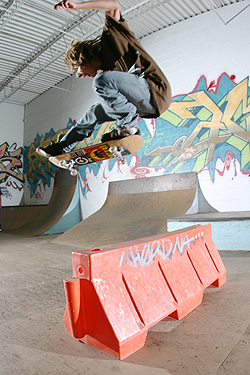 Neen Williams – Superduperkickerflipper
Also had the chance to catch up with Mr. Dax Miller. Dax is grad-a-ma-tating from NIU this spring with a degree in Spanish Translation and Business. Dude is gonna be rolling in the dough… SWITCH! He does EVERYthing switch. Which is what makes Dax… Dax.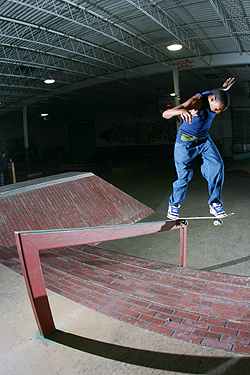 Dax Miller – Switch Backtail
Kitlers
It is widely apparent that on this website there is made mention of various cats and dogs. It goes with out saying that we love pets. I have two felines myself… youngsters… teenaged pussy… teenaged pussy that just loves lays around my house and lick themselves. Oh… and their crazy!
BUT not as crazy as these cats. Apparently the term for cats that have a weird affinity to hitler is… Kitlers. And THIS site has TONS of them. If you thought your cat was the only one… you are surely wrong.
Then again… all these cats are crazy… I mean what about cats in sinks? Aren't they just crazy too? Or what about people who put stuff on their cats? They MUST be crazy! Who does this? … oh wait… Josh and Tim do!
Oh… oh … oh… and if you really want to feel festive, our feline friends are available for cat bowling just in time for All Hallows Eve. Get out that Jack O Lantern and get to keggling!
Random cats and other assorted crap here. Meow!