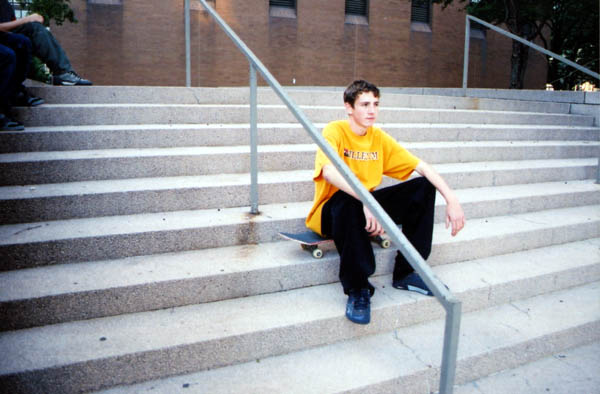 Part 2 of Greg Lutzka's 2001 footage covering a period of time from 6/14/2001 to 12/9/2001. You can read about part 1 here and view it here.
I think I actually prefer the footage in part one, but there's some pretty great stuff in this one too. It's pretty crazy to think that Greg did that backside smith on the Marquette Hubba ledge more than five years ago. As the clip goes in chronological order, it means that he did that trick in December, meaning it was super cold outside. I remember afterwards we all went to a Girl/Chocolate demo in Illinois. An important piece of trivia for you there, clearly.
I should mention that I am missing some of the footage we filmed in this time period. One of the cds I luckily made sometime in the past with this footage on it unluckily doesn't read anymore. So about 15 tricks are missing. I'm thinking it wasn't anything important because I can't think of anything memorable that I'm missing, but who knows.
I'm not sure if I'm going to make any more of these clips. A lot of the footage starting in 2002 made it into his part in Hurry Up and Die. If anyone is interested in seeing whatever else I have laying around that didn't make it in the video part feel free to email me. Maybe I can be convinced to make another video clip.
Otherwise, as you may have noticed it was warm outside, now it's cold again. It's the Midwest, these things happen. We'll be back to perfect weather again soon, so no worries.
That reminds me that I have a lot of pretty good photos from this weekend and week that I still haven't had the time to get off my camera and onto the site. A travesty, I know. Hopefully soon, I have a vision of a Stemper photo montage which would make any mother proud.
I guess while we're sort of on the topic of old crap, here's a photo of Marques DeVaughn from maybe 2002 that is still probably my favorite skate photo I've ever taken.


I know I've had it on the site before, but this version is bigger so just let me get away with it this one time.
Have I ever put this picture on the site before?


Definitely my favorite bunny suit photo ever. Check dude's tite rims!