Before I rant about anything I would like to apologize to you, the reader, as I said that I only took one skate photo the other night at "Old Dude Night". I did take another, but with Josh's fancy digital rebel.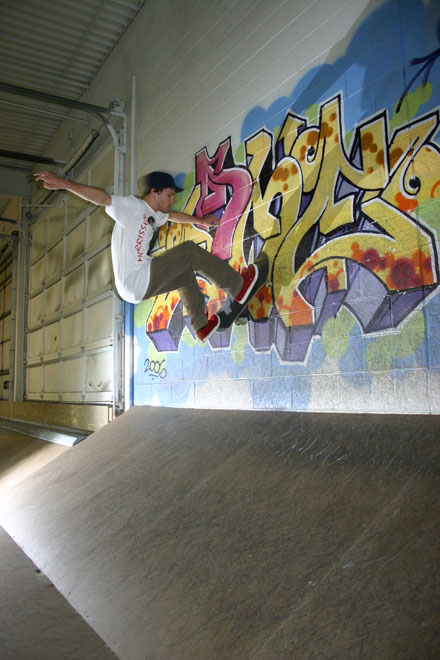 Josh with a beauty of a frontside wallride. Being a advocate of any wall-type maneuvers, it's needless to say that I like this photo alot. Anyway, sorry for misleading you and I will not let it happen again.
And on we go.
Since moving in to what is now known as the "Horny House", I have seen alot of strange scenarios play out right before my eyes. Anything from C3PO humping everything in the room to concerned neighbors coming over to ask if we were harming animals. We would never harm animals, we love them. And I love it here, but this whole crime rampage going on in our neighborhood has me shaken. My lease is up next August, and I hope by then things get better so I wont want to move away. I really want to start a riverwest renegade taskforce and try to stop the insanity that is happening around here. I heard some guy got his jaw broken the other night for no reason. He didn't even get robbed. My co-worker got mugged a half block away from my work. He struggled and took the gun from the guy. Pretty bold. I applaud him. This is just stressing me out. Can't we all just get along?
I just want to make a public thank you to ex-Milwaukee and now so-cal's own glasscutter; John McGuire. He sent us a box full of great skateboard goodies and a few non-skate related items (washcloth?). He really came through and we just want him to know that a case of Nerds will be on its way very soon. Thanks again.
Tonight is the super scary lock-in at everyones favorite skatepark, Cream City. If you haven't signed up to be frightened out of your diapers, get over there now, or give the park a call. It's sure to be a howling good time.
That's all for now. Later nerds.