Where was I?
Hello…As you all know, being horny is dangerous business. I seem to have contracted some anti-horny virus that has given me a cough, runny nose, sneezing, the whole works. Some might call it a cold, but I'm convinced it was created by the makers of "How Stella Got her Groove Back", as the answer is, she stole it from Lord Cru. That aside, this week at school was brutal. I have so much work to do I can't even think about it, and it's only getting worse. Yesterday I had to lead discussion in one of my seminars on Neoliberalism and Post-Structuralism, and I was actually able to pull it off between coughing and throwing up blood. I wish she would have told me to leave, but that wasn't going to happen.
Skating
Skating was great last weekend as you could tell from the pics. Zone certainly got mvp, and I think it's fair to say that I haven't been out there for that long and actually had fun in quite some time. Sadly I missed the mini-keg sesh, as I was gripping boards for the neighborhood kids over at Sky High. It looked like a great time though, too bad this weekend there will be snow on the ground. In terms of old dude night, I'm no longer able to attend. I thought that I'd mentioned that one here previously, but if not here it is again. Wednesdays no longer work for me, and I will not be there until I have a break, which is likely to be the Wednesday before Thanksgiving.
Drinking/Nonsense
Allow me to throw this out there….What would you think if someone sent you a text message at bar time asking you "what are you doing?" or "what's up?"? Keep in mind this is not one of your good friends, and the person isn't drunk, and she/he gave you his/her phone number without prompt…..Really? That's actually what I was thinking too, but maybe I'm just a total douche..wait..I mean..maybe I misunderstood. Perhaps it was just a real concern for how I was doing, even though the person knows me about as well as I know Melcher. Be that as it may, Friday was the usual garbage, and Saturday was below par as well. Maybe we need to find something else to do guys? Dare I say that our usual haunts have gotten me a bit stir-crazy? Maybe my protest will be silent and small, but it will prevail. I do have to mention that on Saturday, I had a really good time with a few of my friends that have not been all together on the crab in awhile. Instead of giving a play by play, I will post a series of pics that outline the night rather well, and for the ending see Josh's post containing the pic of the reservoir at 4am. Note to women: This is what happens when text messages are not returned…..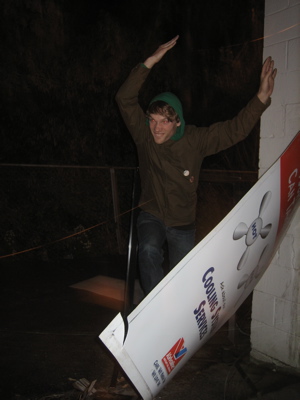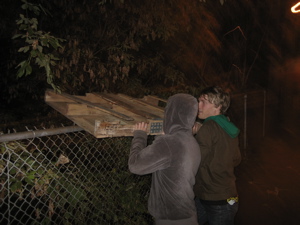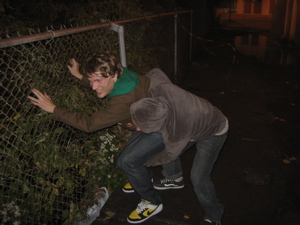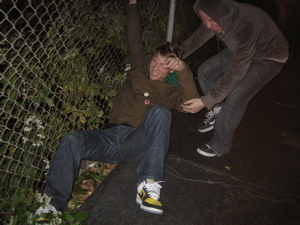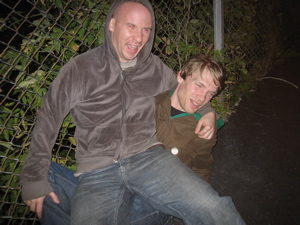 This Weekend?
It seems like if I wasn't getting over this hellish virus, I could have had a really good time ths weekend. It might be worth mentioning (although this is not in the proper section) that Lutzka showed up at the neighborhood bar we loc out in Bay View last Tuesday. It was quite a scene as can be expected from such mayhem. First, Stemper drunk dialed me to talk about Muskie fishing, something that is always welcome. I told him to come by the spot, as it's $2 bomb night. After Stemp showed up with his pal, Lutzka showed up wasted, and I actually thought we were all going to get kicked out of the bar, (including people that didn't even know Lutz) but it turned out to be okay in the end. Seriously guys, even if you don't drink, free pool, free peanuts in the shell and $2 bombs? C'mon, make the trek some Tuesday, you won't be sorry…Getting back to the point, this weekend there's some stuff going on, but unless you live in Eau Claire, you know what's up so I'll leave it at that….
How often you think this one happens?