Alright… so my posts lately have been weak. Josh and Tim are updating like Mad with photos and stories and all kinds of stuff. Even Mr. Twister is up on his game. Guess I gotta make a post with an actual skate photo.
So often it seems like timing and photos are so critical. It's hard to capture exactly whats happening with all the other elements in place (cracks, weather, size, etc) that the timing on the trick in question is just as hard to get a hold of. This one was impossible.
This particular photo is of Noah Staller . Noah has ill ninja steez as you can see. The trick in question: a chain bonk. I don't think I actually got one photo with his trucks or wheels on the damn thing. And I took like 75 photos. Each and everytime just missing the actual bonk. Instead, what you see is some great movement of the chain, and Noah's patented tiger style ninja movies.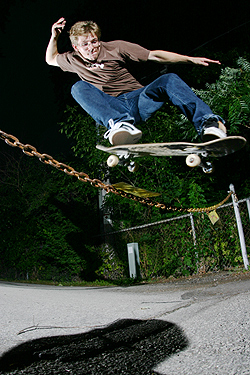 See more of Noah here.
…
Bonus section! here's your Pop Quiz. This morning I caught this little bit of information on the back of my box of Kellogs Corn Pops. MMM… Gotta love my Pops! So what's the right answer? A,B,C,D? Or… E? None of the above? Gotta love it when main stream folks drop the ball on a quiz for kids that play Tony Hawk Pro Skater 8 all day long. Looks like they have ZERO streat cred now. Ouch!